Description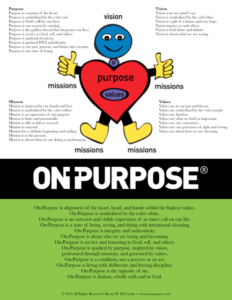 Confused about Purpose, Vision, Mission, and Values?  These words are the core language for leading your life or organization. Yet, if your terms and concepts are confused then you're confused and you'll lose. Get The On-Purpose Poster, you'll start winning!
This professionally printed, suitable-for-framing 11″ x 17″ poster features The On-Purpose Pal along with individual descriptions of purpose, vision, mission, and values. It concludes with the full integration of them all with a description of what On-Purpose means. Bulk order discounts are shown in your shopping cart. Please allow at least 2 weeks for delivery for orders over 25 posters.
Also available in a 2′ x 3′ full sized poster version and a letter sized 8.5″ x 11″ version.