Do you need help with an On-Purpose purchase or Gift Certificate?
Use the Help Request page to troubleshoot or submit a help request.
Does everyone have a purpose?
Yes. Purpose is like spiritual DNA; you were born with it.
Why would I want a 2-Word Purpose Statement?
Why wouldn't you want it? Don't settle for a mere sense of your purpose when you can know it so concisely and precisely. In other words, why settle for a whiff of a meal when you can eat it?
How do I discover my 2-Word Purpose Statement?
Use this site: www.ONPURPOSE.me.
How do I refine or personalize my 2-Word Purpose Statement?
That's a big question with lots of techniques beyond the scope of this FAQ.
Here's one of the best ways. Open a dictionary and thesaurus app and explore each of the two words in your purpose. The better you understand the words, the better you can assess the fit and the depth of your purpose. Feel free to replace either word if you come across a word that improves your purpose statement.
If you want personalized attention, an On-Purpose Professional can coach you.
Will ONPURPOSE.me help me to be a purpose-driven person?
A: You don't want to be a purpose-driven person. You want to be an on-purpose person. We are called to our purpose, not driven by it. Purpose informs us, but it doesn't demand or drive us. Thanks to the ONPURPOSE.me app, you know your 2-word purpose; now you can willingly give it expression. That's being an on-purpose person in creation.
What does it mean to live On-Purpose?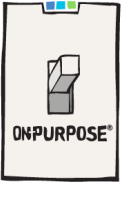 You know your purpose in two words and you use it to inform your life choices. You're either off-purpose or on-purpose. Pretty simple, huh? Well, easier said than done. A great benefit to being on-purpose is to be in relationship with other like-hearted persons who are actively engaged in being on-purpose in their life, work, and leadership.
How has having a 2-Word Purpose Statement impacted others?
The impact is across the board and reflects the degree of investment in applying it to that life, which each person decides on their own. In general, however, in a world that moves fast, a purpose provides the soul with a touchpoint that is unchanging—a rock in the storm and a foundation for leading life well. This profound personal sense of stability sustains in troubled times and uplifts in the good times. Having an unassailable strength within you is a remarkably powerful and humbling posture to possess in life. Because of this internal accountability, on-purpose persons in creation tend to be optimistic stewards who lead their lives with passion and compassion and are better able to cope and accomplish.

What do I need to do to learn to live my purpose?
It starts with knowing your 2-word purpose statement. Next, put together an on-purpose plan. Feel free to make plans for your life, your work, your finances, and any of the Life Accounts described in The On-Purpose Person. The book is laid out in three steps: 1. A New Beginning; 2. The Plan; and 3. Simplify. Using a systematic and simple approach to making your life make sense will be life-changing right now and longer. None of us know what life may throw our way, so using the On-Purpose® Approach as a personal leadership operating system will more predictably produce the life you most want.
Lastly, exercise perspective and patience with yourself and others. Progress may not always come as fast as you would prefer. Recognize that these "slow times" are typically preparation and tempering for resolve and maturity that will be needed in the future.
What does the expression "in creation" mean to being on-purpose?
To be "in creation" is an attitude and perspective of choosing to be a lifelong learner and leader who willingly takes chances in order to experience life more fully and true to oneself.
How can I live On-Purpose while doing my job?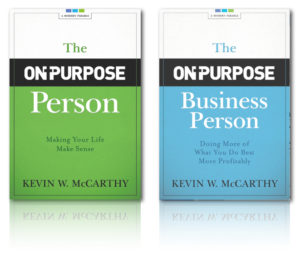 Start with being the best version of you possible given your reality—that's being an on-purpose person in creation. You bring your purpose to work. Your work doesn't give you purpose. Work is a place for expression of your purpose. Some positions are better fits for such expression than others. Sometimes we have to craft and negotiate an existing position for it to be more on-purpose. The On-Purpose Business Person provides you with four pillars to being on-purpose at work, on the job, or for leading a large or small team.
Visit our sister websites MyWork-ONPURPOSE.com and MyBusiness-ONPURPOSE.com to explore your work and business interests and opportunities.
How can I help others discover their purpose?
Give a Gift Certificate to ONPURPOSE.me so others can know their purpose in just a few minutes. Ask them about their purpose. You'll both benefit from the dialogue. Conversations about purpose are amazingly real and meaningful. By being open and generous about yourself, with each talk you have with others about your purpose you'll learn more about them and you. The more you sow, the more you will reap the benefits of sharing.