The On-Purpose Person: Early Trivia
Since December of 1987, the idea of writing a book about a life clarification process he had developed pressed upon the heart of young businessman and commercial real estate developer Kevin W. McCarthy. On May 9, 1990, Kevin was engaged by the Gallery of Homes to provide a 90-minute training on strategic planning for franchise holders at their annual brokers conference being held in Altamonte Springs, FL. The meeting was held at a Hilton Hotel in North Lake Office Park where either a year or two earlier Kevin had a hand in placing the Hilton Hotel onto this very site where his commercial real estate career with the Trammell Crow Company started. In retrospect, the synchronicity of Kevin's gradual ending of a real estate development career and stepping into an individual and organizational leadership development calling publicly began on this day. The program he presented was called The On-Purpose Business.
From the very beginning, "On-Purpose" started like a single cell that naturally split into a personal and organizational relationship. Whereas many authors and thought leaders would write about personal development or organizational development, Kevin found this dissection to be too artificial and isolating. Instead, he took a more holistic perspective by looking at the interrelationship of the individual and the organization. His integrative approach and methods to leadership development remain on the leading (pun intended) edge even today. At that time, there were less than a handful of people talking and writing about purpose, let alone the full implementation of purpose in life and work or being on-purpose.
After seven years of infertility related issues, in the mid-summer of 199o, Judith, Kevin's wife, was with child. Having learned from his friends that raising children was a massively time-consuming joy, Kevin recognized that his call to write a book was now or never and he needed to give birth to a message that would become a movement. He began writing The On-Purpose Person knowing full well that The On-Purpose Business Person had to follow as a 2-part series. One without the other was incomplete, yet each book needed to stand on its own.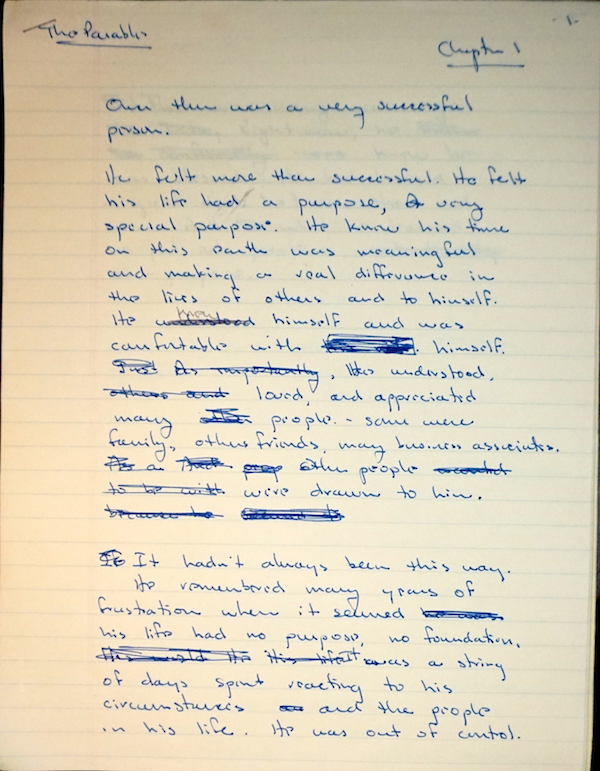 Production
In August of 1990, Kevin began writing in earnest. During the day, he served clients in his growing business strategy and advisory consulting firm where On-Purpose provided the intellectual and practical framework.
After Judith went to bed at night, Kevin would steal away to his soon-to-be baby's room. Initially, a yellow pad and pen (see image to the right) were his tools to rapidly capture his thoughts and words. Later in the evening or the next, he would convert his handwritten notes onto his Apple Macintosh computer. Using this combined writing method, Kevin regularly wrote and edited the manuscript from 10 PM to 3 AM until the message was "complete." Judith affectionately nicknamed his out-all-night-writing-a-book-project as "Kevin's mistress."
For her poking fun at him, Kevin exacted a subtle payback in the Acknowledgment section in the back of The On-Purpose Person. His backhanded compliment reads, "I want to thank my wife, Judith, from whom I never heard a discouraging word during the term of this writing project. She is my best friend and my love."
With a twinkle in his eye, Kevin will tell you, "What I'm really saying is I didn't hear an encouraging word either! She was feathering the nest as I was cloistered in our second of two bedrooms in our tiny home pounding away with a pen, pad, and Mac with a profound sense of energy and urgency to 'download' this parable. It made little sense to her that her businessman husband had turned into a writer. Nevertheless, she stayed neutral, like Switzerland except without the chocolate, and left me to my work. To her credit, she trusted my passion for this message and the project." Until now, this has remained their inside joke.
Charles was born in February of 1991 and the manuscript for The On-Purpose Person was complete—kinda. Kevin felt that something wasn't right about it. Unable to put his finger on this dissatisfaction, he put away the manuscript for a couple of months so he could stew on it. It finally came to him. How could someone be an on-purpose person and not be giving out of an abundance of gratitude? Chapter 17, Giving, was added to the manuscript and the remainder of the book was modified to reflect the update.
Publication
Knowing nothing about the publishing industry, Kevin self-published in 1991 and distributed the book to 12 men in his CEO peer learning group. From this humble beginning, the message spread by word of mouth. While the original twelve copies were loose-leaf pages with a large metal clip holding them together, the book evolved. To the right is the third evolution of the manuscript—what Kevin calls the "cookbook version" because of the GBC plastic binding. Through pure word of mouth over a thousand copies of this version were sold. More importantly, stories of lives transformed came to the office via letters and phone calls.
Word of the book also reached publishers. Within a six-week period, Kevin received 5 unsolicited offers from publishers to buy the rights to the book. Unsure what to do, but being a business person, Kevin weighed his options, and did research. With the help of Murray Fisher, the book was picked up by a publisher for release in July of 1992.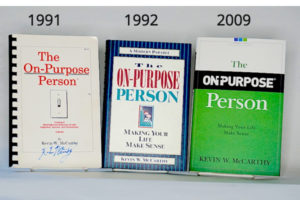 Kevin bought the publishing rights back in 2008 and updated the book and re-released it in 2009. In April 2012, during a 5-day promotion on Kindle free, The On-Purpose Person was the #1 Non-Fiction book on all of Kindle.
The book has sold over 300,000 print copies in the U.S. Additionally, it has been translated into six languages. Because the message is timeless, it continues to sell well month after month.