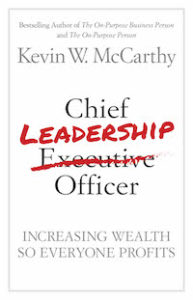 Increasing Wealth So Everyone Profits is the subtitle to Kevin W. McCarthy's disruptive book, Chief Leadership Officer.  Chapter 4, titled "Increasing Wealth," opens with this quote from Henry Ford.
A business that makes nothing but money is a poor business.
Ask most people why a business exists and they're likely to say, "To make money." They're incompletely right! Only within the business sciences of Economics and Accounting does a business exist only to make money.
Great industrialists of the late 19th and early 20th centuries such as Ford, Carnegie, Frick, Mellon, Hurst, Rockefeller, Vanderbilt, Stanford, and others, who were derided as the "Robber Barons," embraced their responsibility to use their wealth for great causes. They sought to improve the well-being of society and understood that business provided the best means to raise the standards of living for all. Admittedly, their management methods didn't always rise to their ideals.
Today, we know better, but we're not necessarily doing better. There is a better way! Read about it in Chief Leadership Officer. Or listen on Audible.
Learn more at www.ChiefLeadershipOfficer.com