Description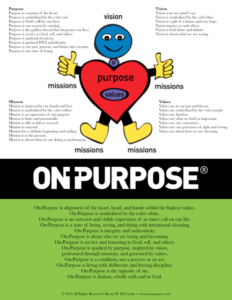 Purpose, Vision, Mission, and Values are the Language of Leadership & Strategy. Yet, these all-important words are confused in the popular culture and use in business strategy and planning. With The On-Purpose Poster, you'll never be confused again!
This suitable-for-framing 2′ x 3′ poster features The On-Purpose Pal along with individual descriptions of purpose, vision, mission, and values. It concludes with the full integration of them all with a description of what On-Purpose means. Bulk order discounts are shown in your shopping cart. Please allow at least 2 weeks for delivery for orders over 25 posters.
Also available in a 11″ x 17′ flyer sized version and a letter sized 8.5″ x 11″ version.