Description
Inspire everyone in your organization to reignite their performance by discovering their life's purpose in a new way.
Life and work are inextricably entwined. A person whose life is meaningful brings their purpose to their workplace. They're more likely to be a better team player who is engaged, energized, and resilient when faced with change. Purpose is the secret spice in the job satisfaction recipe.
The Team with a Purpose package is $20 per person (plus bulk shipping costs of the books) . Included in the package is:
Use of ONPURPOSE.me, an ingeniously fast, forever meaningful tool guiding each person to find their purpose in just 2 words!
Each person will receive a 10-email mini-course called

Poured Wisdom

to help them implement and cultivate their purpose and bring more meaning into their lives.
Practical application of one's purpose to one's life via the softcover edition of The On-Purpose Person: Making Your Life Make Sense.

Introductory Purpose video

to inspire your team to dig into understanding their purpose at work. Customized videos are also available for an additional fee.
*This special price can only be offered on orders of 10 or more.
Order 1
Team with a Purpose

package for each team member!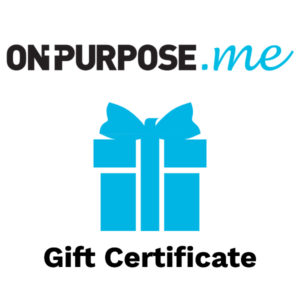 Note: Shipping is not included in the $20 per person price but will be added at the time of checkout.
ONPURPOSE.me comes as a PDF gift certificate that you share in person or electronically with your team members. This unique code is typically provided same business day. The code is good for a year or until all uses have been depleted.
For orders of 25 or more packages, please allow up to two weeks for delivery of the books. Expedited shipping is available for an up charge.
Introductory video can be customized with your logo for $300 or is included with an order of 100 or more packages.